Follow up data with action
Regardless of whether it is an employee survey or an instance of a 360° leadership feedback, the survey results are always only a starting point to derive individual and targeted initiatives and follow-up activities.
Only the response to the survey results and the action steps derived from them give the survey its usefulness. While this sounds obvious, it is not always easy to realise, because in many cases there are hurdles in the way.
We will support your organisation's development, regardless of the hurdles involved. As required, effective refinement will be carried out in results workshops, large group events, or by transferring knowledge via qualification workshops and method kits.
Possible hurdles in the refinement process:
The organisation is under constant stress, and thus there is a lack of calm for dealing with the results.
Although there is interest and willingness in working with the results, there is a lack of experience and/or resources.
Participants find it difficult to derive concrete steps from the data. You can't see the forest for the trees.
Managers are caught up in a conflict of roles: they are initiators, designers, moderators, etc., and also sources of individual instances of tension.
The organisation has a history of surveys whereby "nothing has happened". There is a need to overcome inertia and scepticism.
Results workshops for HR departments
Screening and weighting the results in the HR department or project group is often a first essential part of working with the survey results.
We develop a common approach with all project participants, aggregate the data for top management, and prepare communication to managers and the entire staff. With and for you, we define possible company-wide key issues and "quick wins" with rapid visibility within the organisation.
We support our customers in the conception and implementation of such workshops, to start processing survey results efficiently and effectively. Generally, results workshops with HR departments or project groups are half-day or full-day affairs.
Result workshops with teams and departments
In a team or department workshop, the employees of an organisational unit generally work together on the results of the survey and jointly develop solutions. In doing so, those affected become participants.
These are data-based team development processes designed to improve performance and eliminate motivation killers.
We design and moderate workshops for teams and departments. We support your process – you and your managers can concentrate on the contents. We free up your organisation and, where necessary, provide tips for finding solutions and developing new ideas.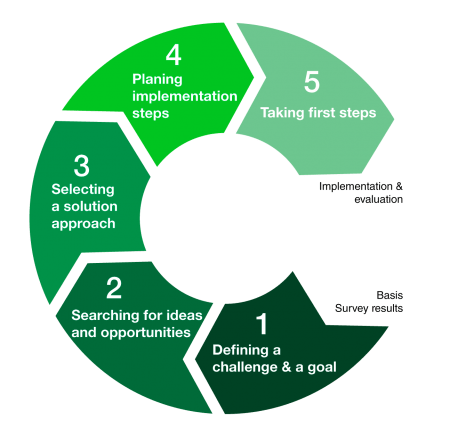 We are fans of large group events, because they make the energy around an issue palpable and visible. For example, your employee survey can be refined…
… within the context of a large-scale employee day with all employees …
… in the context of an annual management conference …
… with a representative occupational group of your company (for example, the branch employees) …
… with a representative cross-section of your employees.
We will design and moderate your large group event, regardless of whether it is for 50, 500 or more employees.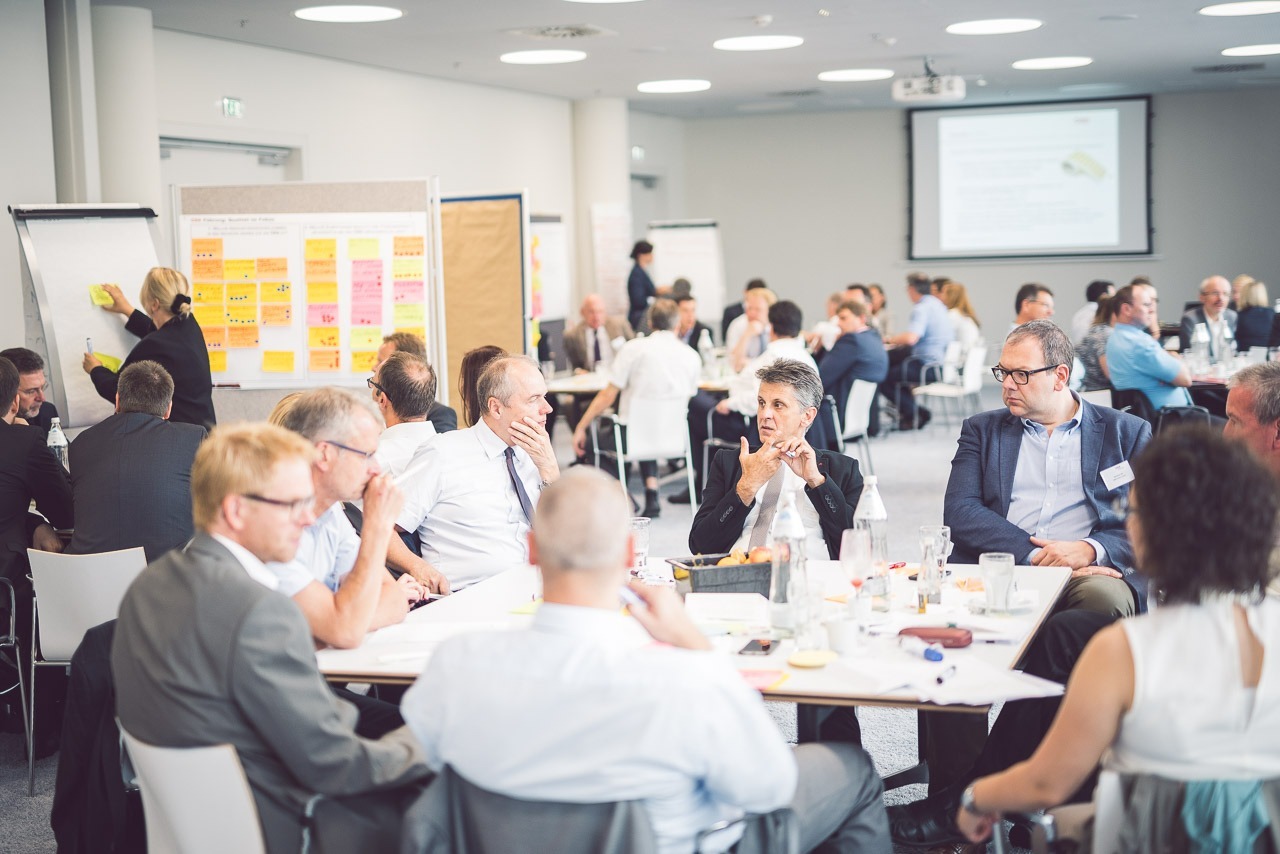 Increasing knowledge - sharing experience
Qualification workshops for managers and HR
Our attitude in the project is: "We want to make ourselves redundant, working from the very beginning of the project toward the goal that you no longer need us!". Accordingly, we will support you and your company in preparing the managers and/or HR departments for their tasks in the context of the refinement process. In these 'train-the-trainer' seminars, the necessary practical knowledge is imparted in order to competently support subsequent processes, depending on the requirements:
Background information on the survey and the survey topics
Tips and recommendations for presenting the results to employees
Tips and recommendations for interpreting the results
Tips and recommendations for deriving follow-up initiatives
Moderation know-how for working on the results with employees
Upon request, we will also brief your existing team of internal or external consultants/trainers/moderators with regard to the requirements of the current employee survey process.
Action guidelines and method kits
In addition to personal work in the form of moderation or training, there are other ways we can support the refinement process, such as …
… written action guidelines which instruct managers in working with the survey results, step by step.
… provision of illustrated moderation materials as a 'method kit' for managers.
… provision of short videos for your intranet, which give managers tips and recommendations in the form of 'learning nuggets'.
… a webinar series that provides important specific tips.
In-depth focus groups
Sometimes the best answers to an employee survey can give rise to new questions, which need to be followed up. Two-hour focus groups are worthwhile to this end, whereby 10 to 12 employees discuss certain key results of the survey, enriching the quantitative results with qualitative findings.
As needed, we would also be happy to design and moderate focus groups in order to validate contradictory results, scrutinise initiative ideas, or to generate new ideas.
Loomis Österreich
Employee survey
400 employees
Service/Trade
Austria
JAF International
Employee survey
2700 employees
Industry/Production
International
Wiener Stadtwerke
Employee survey
16000 employees
Industry/Production
Austria
dm drogerie markt
Employee survey
16000 employees
Service/Trade
International
Discussion can also strike gold
In addition to working in group settings, do you want to support your managers during the refinement process via individual, in-depth transfer discussions in a coaching format? Read more about our services in the area of bilateral transfer discussions.
Learn more