There is no learning without feedback!
In everyday life, feedback is a scarce resource that is too little available or too rarely used. This is particularly true for managers.
At the same time, feedback is the most important catalyst for learning processes and personal and corporate development. One might even say: there is no learning without feedback! – a dilemma that you can solve for your company.
A 360-degree Feedback from vieconsult can help you bridge this gap for your managers, and to establish a further building block for a positive feedback culture. Because life is too short for no feedback, isn't it?
A panoramic view for managers
Regardless of whether it is referred to as 360°/270°/180° feedback, multi-source feedback, or multi-perspective feedback, the principle is always the same: a target person, usually a manager, receives feedback on observable competencies from his or her own work environment. Generally this is from the point of view of employees, colleagues, and supervisors – in rare cases also from customers.
At the same time, the target person fills out a self-assessment, which is compared in the evaluation with the external image of those who have given feedback. The alignment of self-perception and the perception of others makes it possible to work out starting points for and with feedback recipients to develop their competences.
360-degree Feedback can be widely applied in companies:
… as a regular feedback tool for managers.
…. in the context of the onboarding process for new managers after 3 to 6 months.
… as a status report before or during management development programmes.
… as a status report in the course of introducing new management skills.
Wienerberger
Leadership feedback
15000 employees
Service/Trade
International
Mondi
Leadership feedback
26000 employees
Industry/Production
International
Bundesrechenzentrum
Leadership feedback
1200 employees
Service/Trade
Austria
ÖBB
Leadership feedback
36000 employees
Industry/Production
Austria
"Leadership" is not a driving licence in the sense of the motto "Once you've got it, it's good for life". On the contrary: regular feedback helps managers to do their jobs even better. And the 360-degree Feedbacks is a tried and true tool.
Nevertheless: Whether a leadership feedback is the right tool for you depends on many factors. That's why we pay particular attention to tailoring the method to your requirements during the design phase.
vieconsult conducts hundreds of feedback surveys per year. Rely on our experience in the development and implementation of individualised feedback procedures.
A 360-degree Feedback builds on a positive feedback culture. If this is not present, a leadership feedback can lead to distorted results or even fail altogether.
A 360-degree Feedback is primarily a measuring procedure. If insufficient investment is made to support managers in refining the results, the project turns into a graveyard of figures.
A 360-degree Feedback must not be exploited. It contains elements of a development and evaluation tool, but must not be used, for example, to retroactively legitimise personnel decisions.
A 360-degree Feedback is based on anonymity and confidentiality. If these aspects are denied, distorted results can be expected.
Prize-nominated technology as a basis
vieconsult offers you more than just process support in the field of the leadership feedback. We also offer you an efficient technical basis for your feedback process: Our own FeedbackHUB application.
Since 2010, we have been using FeedbackHUB to develop our own software solution for the administration and implementation of 360-degree Feedback processes.
FeedbackHUB App
… manages feedback processes of any size in real time.
… is a web application – Plug and Play for rapid use.
… is user friendly and works on all devices.
… is available in 28 languages.
… is stable and scalable, whether there are 50, 500, or 5,000 feedback recipients.
… is programmed in terms of privacy and security standards.
… has been repeatedly nominated for the Austrian consulting award "Constantinus" as well as for the Vienna Chamber of Commerce innovation award "Mercur".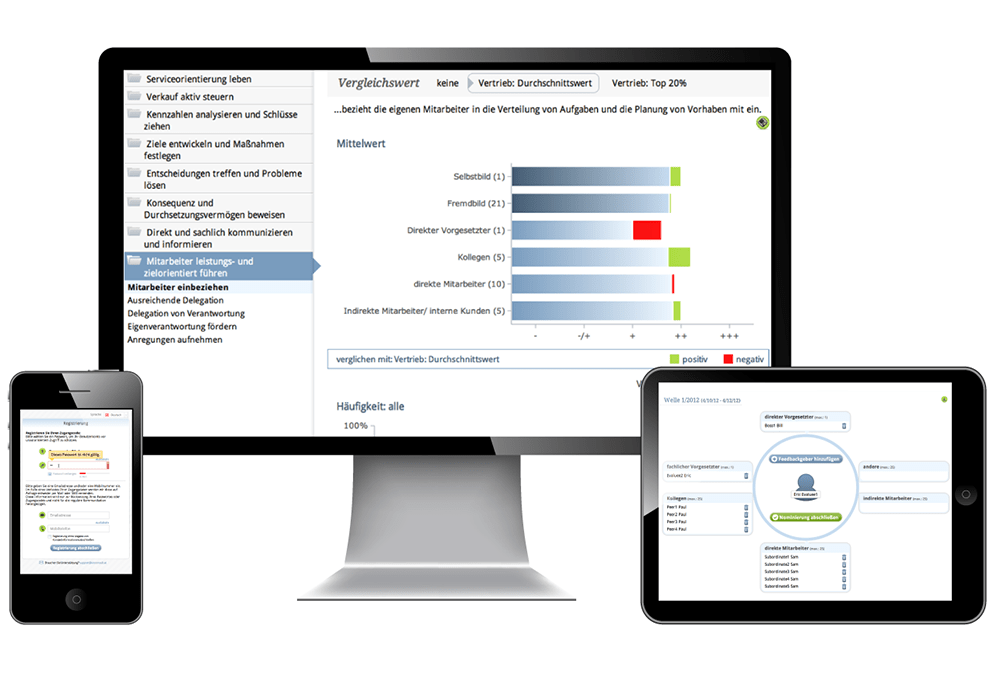 Have the end in view from the beginning
In any case, make sure you invest sufficiently in supporting the refinement phase, and firmly establish it in the process. If you do not want to invest in transfer and follow-up, consider whether it may be better to refrain from carrying out a leadership feedback.
Learn more